"Our Rhythm, Our Power" : Brothers of the Desert In-Person Wellness Summit
November 12, 2022 @ 8:30 am

-

4:30 pm

Donation
Brothers of the Desert's one-day in-person wellness summit focusing on Black gay men and our allies at Margaritaville Resort Palm Springs
Brothers of the Desert is conducting our 4th annual wellness summit focusing on Black gay men and our allies in the Coachella Valley and beyond in-person on Saturday, November 12th at Margaritaville Resort in Palm Springs from 8:30 AM-4:30 PM. Each year we have grown in attendance and we plan to make this year's summit the best ever!
Given the unprecedented individual and collective struggles we experienced over the past years, creating a safe space to connect, and explore what matters most to us is essential."Our Rhythm, Our Power: Living Our Best Black Gay Lives" is the theme of the summit. Join us as we consider how to navigate in our continued period of renewal with an enhanced consciousness to truly live our best lives. Everyone is welcome to attend.
The one-day event features innovative workshops, and inspiring keynote presentations on a diverse range of topics, such as spirituality,relationships, mental health, aging considerations, racism, physical health, Black LGBTQ history, healthy sex, financial planning, writing and music as healing and more.
The summit begins with a meet-and-greet at 8:30 AM and the program starting promptly at 9:00 AM. Participants will be able to choose to attend concurrent workshops at three different times during the day and meet and connect with new people. Lunch will be provided, along with raffle prizes and entertainment. Space is limited, and registration is required. A donation of $25 is suggested and any amount given will be accepted.
The event will be hosted by the very funny and talented actor, Ralph Cole Jr. Broadway actor and author, Alton-Fitzgerald White and Bishop Yvette Flunder will offer keynote remarks. Workshop presenters include: psychiatrist, Dr. Curley Bonds, physician, Dr. Leo Moore, author and activist Dante King, sexual health expert, Dr. Alex Del Rosario, historian, Micah Lubensky, musical artist, Nhojj, community leader, Dr. Stephan Scoggins, financial planning expert, Chauncey Thompson, renowned facilitator, L. Trey Wilson, healer Trevor James. We will also feature panels on aging considerations and writing as an expression of overall health.
The summit is our main event but we also present a wellness weekend, that begins with a free pre-event to meet the speakers and participants for the summit on Friday evening from 5:30-7:30 PM at Margaritaville Resort. Click here to rsvp for the opening event. We are also planning a Brothers of the Desert evening at Palm Springs Women and Jazz on Saturday featured Ledisi, and a Sunday brunch.
Last year over 120 people attended and here are some comments from their experience:
"How affirming queer black unity and community are in my sense belonging the world we live in, and how important showing up for each other can be for our survival."
"That as Black gay men were are powerful when we work together. To see Black men gathering in a social and educational settings sends a strong message and positive imaging to the greater community. "
"Got some new ideas to implement into my own wellness practice and clarity on what my next best steps are "
"I took many things from this experience and am still on a high three days later. How about: There is power in reaching out to your brothers when you need help."
Sponsors include:
DAP Health , The California Prevention Training Center , SoCal Gas, The LGBT Center of the Desert, TruEvolution, Icon City Entertainment, Let's Kick Ass Palm Springs, GED Magazine,The Pacific AIDS Education and Training Center, Barton CPA and Associates and In The Meantime Men's Group.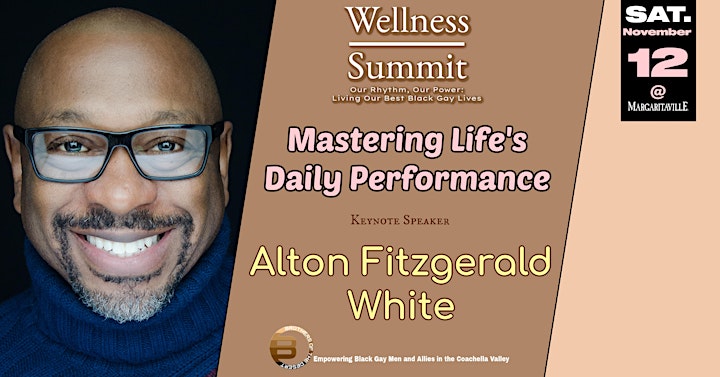 Alton Fitzgerald White
After a record-breaking 4,308 performances as King Mufasa in The Lion King on Broadway, Alton added author and in demand keynote speaker to his list of titles. His critically acclaimed book, My Pride: Mastering the Challenge of Daily Performance, filled with secrets to fulfillment and joy in work and life, is published by Disney Editions. Other Broadway starring roles include Mister in The Color Purple, Coalhouse Walker Jr. in Ragtime, Ken in Smokey Joe's Cafe, John in Miss Saigon and The Hawker in The Who's Tommy. Alton has performed concert dates all over the world that has included music from his best-selling CD Disney My Way! Alton has appeared on the big screen opposite Nicole Kidman and Sam Elliott and has had guest star roles on the hit TV series LAW AND ORDER, THE BLACKLIST, THE GOOD FIGHT, MADAM SECRETARY, a recurring role on BULL as Judge Tahani and featured in the new season of DEXTER to name a few. Please feel free to join him on his Facebook fan page, @WhiteAlton on Twitter, @Alton2459 on Instagram and Altonfitzgeraldwhite.com. Wishes For Blessings and Joy! 🙂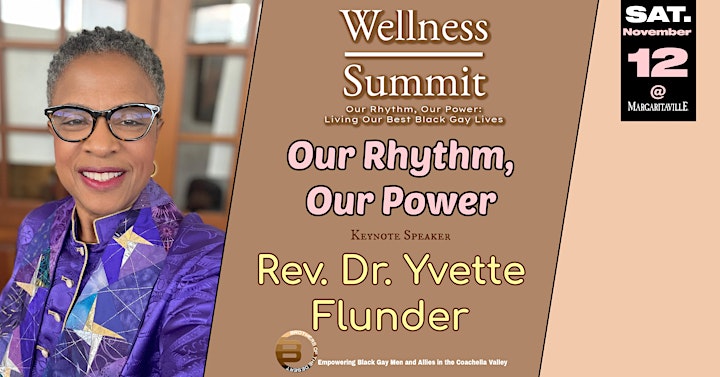 Rev. Dr. Yvette Flunder (2:00-2:30)
Rev. Dr. Yvette Flunder, a San Francisco native, has served her call through prophetic action and ministry for justice for over thirty years. The call to "blend proclamation, worship, service, and advocacy on behalf of those most marginalized in church and in society" led to the founding of the City of Refuge United Church of Christ in 1991. In 2003, Rev. Dr. Flunder was consecrated Presiding Bishop of The Fellowship of Affirming Ministries, a multi-denominational coalition of over 100 primarily African American Christian leaders and laity. She is a graduate of the Certificate of Ministry and Master of Arts programs at Pacific School of Religion and received her Doctor of Ministry from San Francisco Theological Seminary. Bishop Flunder is a DEMOS board member and Senior Fellow at Auburn Theological Seminary and Andover Newton Seminary. She has also served as an Adjunct Professor and speaker at Pacific School of Religion and numerous seminaries and universities including Auburn, Brite Divinity, Chicago Theological, Columbia University, Drew, Duke, Eden, Howard, Lancaster, New York Theological, and Yale.  She is also an award-winning gospel music artist and author of Where the Edge Gathers: A Theology of Homiletic and Radical Inclusion.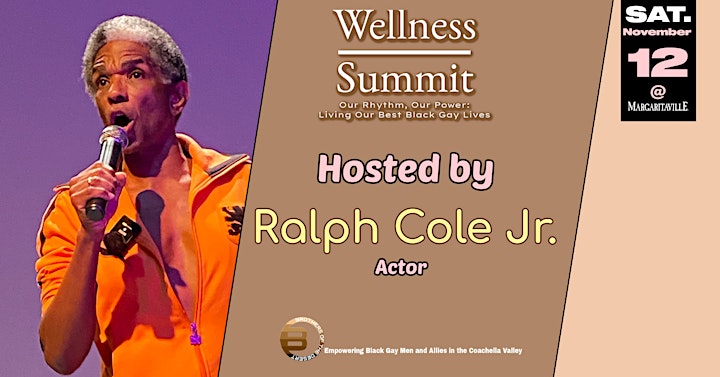 Ralph Cole Jr.
Ralph Cole, Jr! has been a Certified Group Fitness Instructor with the American Council on Exercise (ACE) since 1992. Along with childhood experiences of accompanying his physician father on house calls, he proudly and deftly took care of both his parents for 21 years. As a performer, Ralph won the NAACP Theatre Award for creating the plum role of "Babaloo" in Larry Hart's musical extravaganza Sisterella produced by Robert DeNiro and Michael Jackson. Films include: Never and Again, All About Christmas Eve, The Soloist, Trick, Boomerang and Protected at the LGBTQIA+ Center in Los Angeles. Guest star TV includes: NCIS, Snowfall, Mom, Mr. Mayor, Desperate Housewives, Two and a Half Men and Dexter.
10:00-11:15 Workshop Series A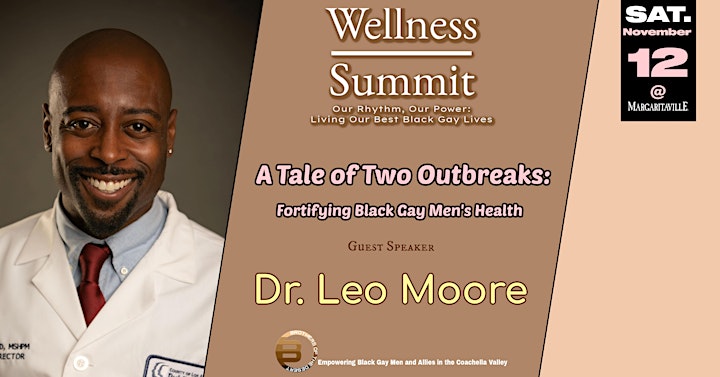 1A. Dr. Leo Moore
Room: Coral Reef 1
A Tale of Two Outbreaks: Fortifying Black Gay Men's Health
Doctor Leo will discuss COVID, Monkeypox, lessons learned and strategies for protecting and improving Black gay men's health to be prepared for future outbreaks.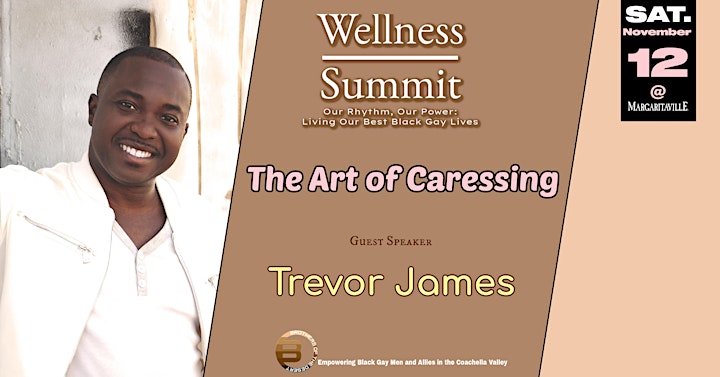 2A. Trevor James
Room: Coral Reef 2
The Art of Caressing
Not everyone knows how the skin likes to be touched. In this workshop, participants will explore the magic of touch through the art of caressing.
We will explore various instruments of touch, and various body parts. We will participate in practical demonstrations on each other, noticing how different types of touch affect us.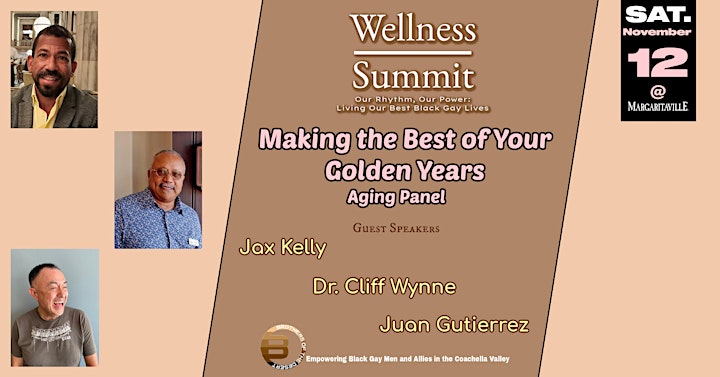 3A. Jax Kelly | Cliff Wynne | Juan Gutierrez
Room: Coral Reef 3
Making the Best of Your Golden Years
This panel will examine important medical, social, and financial considerations for gay men during their senior years or as they plan for retirement. What are some things to look for as our bodies age and how can we stay in optimal physical condition and minimize chronic disease? What needs to be in place in terms of kinds of legal documents (wills, advanced directives, insurance) and social support systems? How can we advocate for public social policies that support gay men as they get older?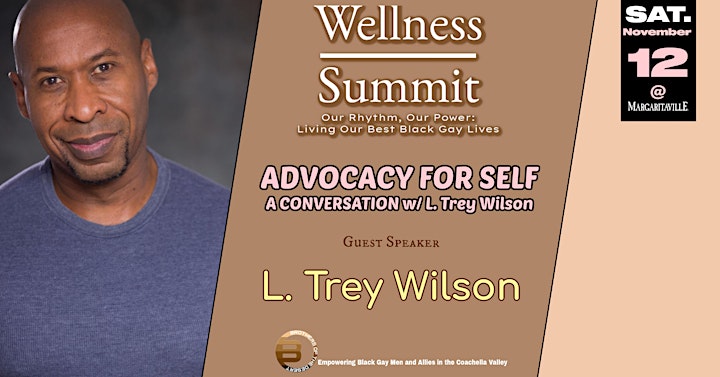 4A. L. Trey Wilson
Room: Paradise 1
ADVOCACY FOR SELF
So often we are "at the ready" to advocate on behalf of others. Are we as practiced in advocating for ourselves? What does that look like? How is this practiced? What are the EXTERNAL and INTERNAL challenges and BENEFITS. Let's share and explore advocating on one's own behalf AND the learning, growth and experience of when we DID and when we DIDN'T. This is a conversation. A space to be a contribution to each other.
WELCOME!
11:30-12:45 Workshop Series B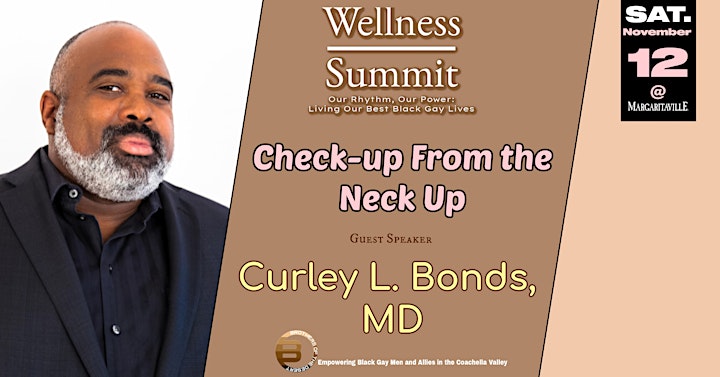 1B. Curley L. Bonds, MD
Room: Coral Reef 1
Check-up From the Neck Up
Most people seek help for physical ailments when they recognize the signs and symptoms of illness. But many of us go through life's challenges without recognizing or acknowledging the need to seek assistance for emotional distress. This workshop will invite active participation in practices that encourage self-exploration and assessment of overall wellbeing. The learner will leave with a better understanding of how to recognize common conditions that fall under the broad definition of mental health disorders. Our discussion will cover the impact of intergenerational and personal trauma, genetics, environmental exposures, sexuality, and interpersonal relationships on well-being. A variety of supportive resources will be shared with time reserved to experience some healing practices during the session. Everyone will be encouraged to create their own wellness action plan with well-defined goals to help them achieve higher levels of wellness in multiple domains.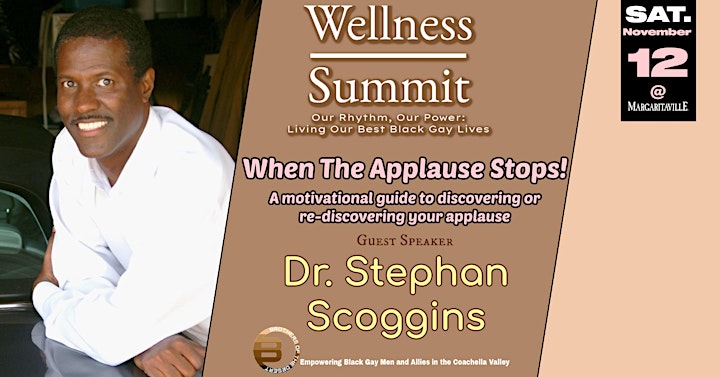 2B. Dr. Stephan Scoggins
Room: Coral Reef 2
"When the applause stops!" A motivational guide to discovering or re-discovering your applause
A native of Tulsa, Oklahoma Stephan is a true renaissance man. As a Registered Nurse he specialized in the emergency room, working around the world as a travel nurse; a proud Veteran with the U.S. Army, and former Oklahoma City Police Officer. After completing a Masters and Doctorate Degrees in Public Health Dr. Scoggins opened ESTEEM, a behavioral health and motivational center. ESTEEM is an acronym for Establishing Skills To Elevate Employment & Motivation. Additionally, Dr. Scoggins is a national recording artist, adding to the family talents of his mother and his first cousins, The World Famous Tony Williams and Superstar, Kanye West.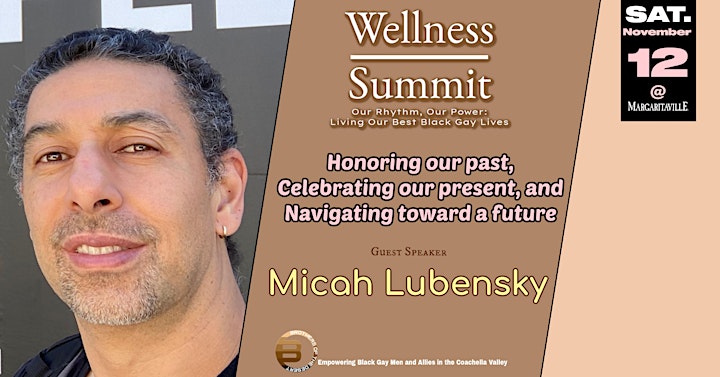 3B. Micah Lubensky
Room: Coral Reef 3
Honoring our past, celebrating our present, and navigating toward a future –
Sharing and discussing The Generations: Black LGBTIQQ History Experiences event and The PRIDE Study.
Generations: Black LGBTIQQ History Experiences is a San Francisco Bay Area community event that teaches Black LGBTIQQ history, supports community wellness, and encourages Black LGBTIQQ leadership into the future. This session will review the context in which the event was born and evolved, the logic model used that helped guide decisions and planning, and the history of the event. The session will present why the event is important for highlighting the lives, activism, and accomplishments of Black LGBTIQQ people in history, and describe implementation and next steps. The session will conclude with an introduction to The PRIDE Study (https://pridestudy.org) to promote the importance of Black LGBTIQQ community members' participation in this national, longitudinal study of LGBTQ+ holistic-health, which is already shaping medical education about and medical service delivery for LGBTQ+ people in the US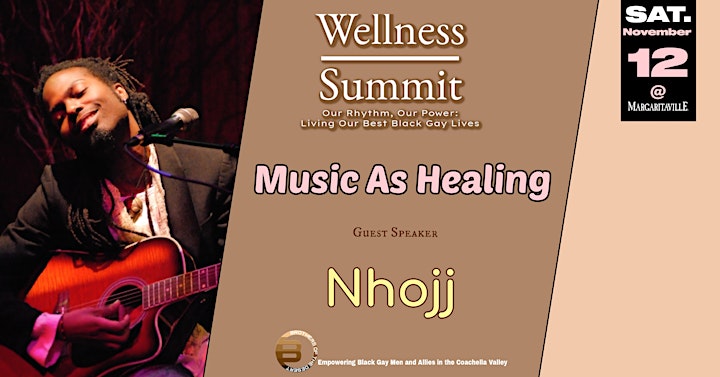 4B. Nhojj
Room: Paradise 1
Music As Healing for the Soul
Music has many positive benefits for our mental health and wellbeing – it can elevate mood, release pent-up emotions, support protest and struggle, and help us deal with grief or express joy. In this workshop, a Black gay musical recording artist will explain his process of creating songs and how writing and performing music has been essential to his journey as a Black gay man. He will also share some samples of the music that he has created.
2:30-3:45 Workshop Series C
1C. Alex del Rosario, MD
Room: Coral Reef 1
A Gay Man's Guide to the Medical Aspects of Gay Sex & Kink
Unlike sexual orientation, sexual practices are a choice based on preference. Whether vanilla or kink, this presentation will take a look at the ins & outs of anal sex, oral sex, rimming, piss play, fisting, sweat/pit play, and also serodiscordant sex and bareback sex along with overview of common STDs: Chlamydia, Gonorrhea, and Syphilis and the implications of Monkeypox.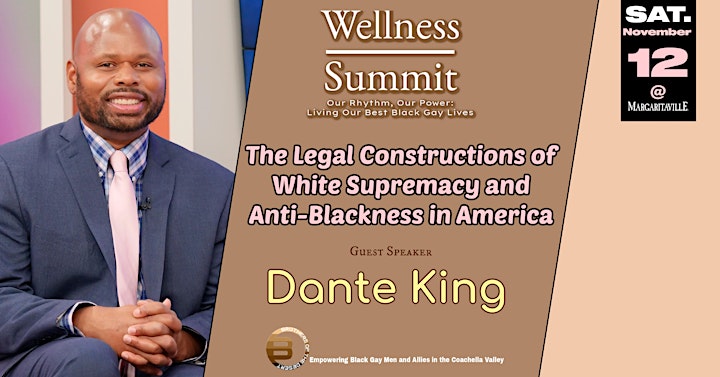 2C. Dante King
Room: Coral Reef 2
The Legal Constructions of White Supremacy and Anti-Blackness in America
In this workshop Dante will explore the legal roots of White Supremacy and Anti-Blackness, and the ways they shaped American culture. We will examine the links between structural and cultural racism and bias and relate and articulate personal experiences and social learning to historical power, privilege, oppression, and powerlessness. We will also describe the "American" experience from the perspectives of peoples who have been historically marginalized and dehumanized, specifically Black people.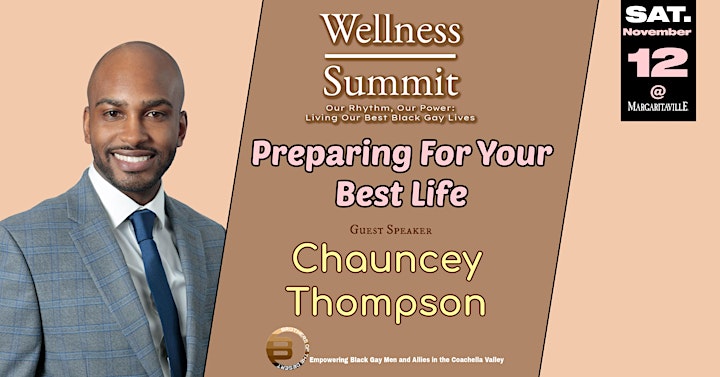 3C. Chauncey Thompson
Room: Coral Reef 3
Preparing For Your Best Life
Understand how to plan for retirement, at the various stages of your life. Ensure your savings is working for you, even through stages of Inflation. Understand how much money is needed for you to retire comfortably. What scares you the most about retirement, and how can we overcome those objections?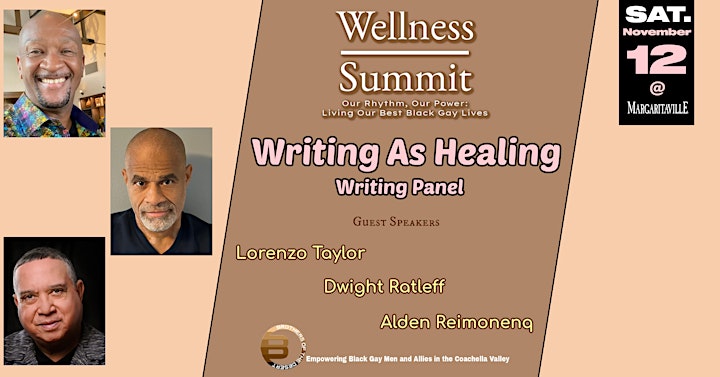 4C. Lorenzo Taylor, Dwight Ratleff, and Alden Reimonenq
Room: Paradise 1
Writing as Healing
Writing poetry, fiction, non-fiction or plays has always been an outlet for Black gay men to express their inner feelings. This will be a conversation with published authors about what inspired them to write, their journeys as writers, the challenges of getting published, and how telling stories have impacted their community and their lives.